Outdoors
This Is Something Ya Just Gotta See: Can A Real Suit Of Armor Stop A Bullet (Let's Find Out Together)
Well folks, it seems that the boys over at Demolition Ranch are at it again, seriously though, I don't know if they're bored and have too much spare time on their hands, or what, because the video below seems like a stretch, even for them. But, with that said, we do enjoy their videos because whatever else…they are entertaining as all get out !! And if there's one thing we need during this pandemic, it's entertainment.
For those of you who aren't familiar with Demolition Ranch, let me fill you in.
Matt Carriker is an American YouTuber. He was born on October 23, 1986, in Boerne, Texas, U.S. Matt is famous for his YouTube videos. Matt started his YouTube channel in 2011. He has three YouTube channels Demolition Ranch (7.49M Subscribers), Vet Ranch (2.85M Subscribers), and OffTheRanch (3.24M Subscribers). Other than YouTube he also practices veterinary medicine at Fair Oaks Ranch Veterinary Clinic.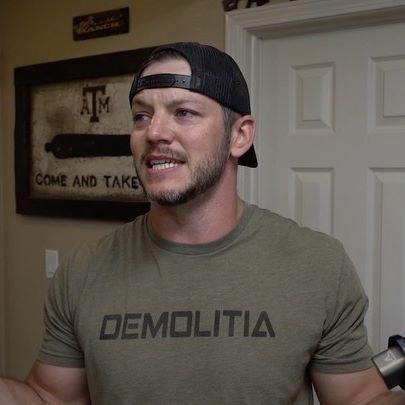 Matt did his graduation in 2008 and got his veterinary license in 2012. His father's and his mother's name is not known. He has two brothers Mark and Drew. Matt also has a sister Ali. Matt Carriker engaged Meredith in the year 2007. After some time Matt married Meredith Atkinson. The couple together has three children, two daughters Adalyn Carriker and Annie Carriker, A son Abby Carriker.
Now that you are filled in on the background, kick back and enjoy the video.
GET MORE STORIES LIKE THIS
IN YOUR INBOX!
Sign up for our daily email and get the stories everyone is talking about.