Lever Guns
Going To The Range & Shooting With The Model 1876 Winchester Chambered In .50-95
Have I got a special treat for you today, below, I placed two videos and I'll explain why in a moment, but first let me tell you what the subject is. Our showcased firearm is a replica of the iconic Winchester model 1876 Centennial, chambered in .50-95. This was the first of Winchester's "Big Bore" models and it came in several different calibers, but today we're going to focus on the .50-95.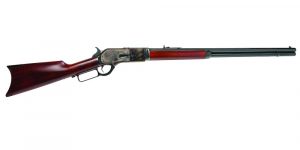 Call me old fashioned, but I do like me some "Cowboy Guns" and what better way to illustrate that love, than with the Winchester model 1876. Now, below are two videos and the reason being, the two different manufacturers, one is Uberti and the other is Cimarron. They are both copies of the iconic Winchester 1876 model both chambered in .50-95.
The first description if from Uberti:
The 1876 Centennial Rifle from Uberti is an exact replica of the Winchester Centennial Rifle, but even better.

It has stronger materials and more precise matching to exacting tolerances and specifications. Today's model is more accurate and stronger for use with modern smokeless and black powder ammunition.

True to the originals, the 1876 Centennial Rifle is chambered in the hard-hitting calibers: .45-60, .45-75, and .50-95. These Uberti rifles are powerful enough to take down North America's largest big-game animals.

The rifle has a 28 inch octagonal barrel, fully adjustable sights, color case-hardened receiver, and A-grade walnut straight stock and forend. $1,709
The second description is from Cimmaron:
1876 Centennial Rifle 50-95, 28″ Octagon Barrel

The 1876 Centennial Rifle and Carbine are both great historical replicas inspired by originals in the Cimarron antique collection! Our 1876 Centennial models could easily pass for genuine 19th century firearms. Available in the 28-inch octagonal-barreled, rifle configuration or the unique, full-stocked '76 Crossfire carbine with its 22-inch round barrel, as featured in the TNT movie Crossfire Trail. The Cimarron '76 is chambered in authentic Centennial Rifle calibers,.45-60, .45-75, or .50-95, and is finished in a Standard Blue barrel, tubular magazine, barrel band and fore-end, with a color case hardened receiver, lever, trigger, hammer and butt plate. The 1876 Centennial model was a true frontier favorite! $1,836.59
The reason for doubling-up and the redundancy is, that in the videos below, both manufacturers rifles are shown, while some may not see the difference right away, after watching both videos you can decide which rifle that you would rather own. Both rifles are over the $1,700.00 mark,  so I think it would be a matter of personal preference.
After watching both videos, let us know in the comment section below which manufacturer you prefer.
GET MORE STORIES LIKE THIS
IN YOUR INBOX!
Sign up for our daily email and get the stories everyone is talking about.
Related Topics:
.50-95, Centennial, Cimmaron, Featured, Lever Guns, Model 1876, Richard Anthony, Richard Anthony @ Great American Outdoors, Richard Anthony Author, Uberti, Winchester