Revolvers
The Rock Island Armory M200 38 Revolver…Inexpensive And Reliable
I'm probably going to catch some flak on this, but I don't care. I have been looking around for an inexpensive and reliable .38 caliber revolver and after going through several videos and several different handguns, I've decided on the Rock Island Armory M200 38Spl. I'm not a huge fan of the .38 round, but what I would be using it for, home and self defense, it seems just fine.
Now I know there are some of you who aren't big fans of Rock Island  Armory, but for what I want, to me at least, it seems just fine. I want a handgun that I can put in the nightstand next to my bed if I just happen to get any 'unexpected visitors' in the middle of the night. Also, if I'm using hollow point rounds, I won't be blowing a huge hole in the walls of my house if I do happen to shoot an intruder.
So, all in all, this particular pistol suits my needs perfectly.
OVERVIEW:
The M200 Revolver is ideal for self defense with a 4″ semi-shrouded barrel for better accuracy and handling. Includes a fixed front sight with smooth channel frame-cut rear sight for durability and constant holster use. Chambered in 38 Special, it can be fired in single or double action. It also features a combat polymer grip and parkerized finish
Here are the specs on this handgun: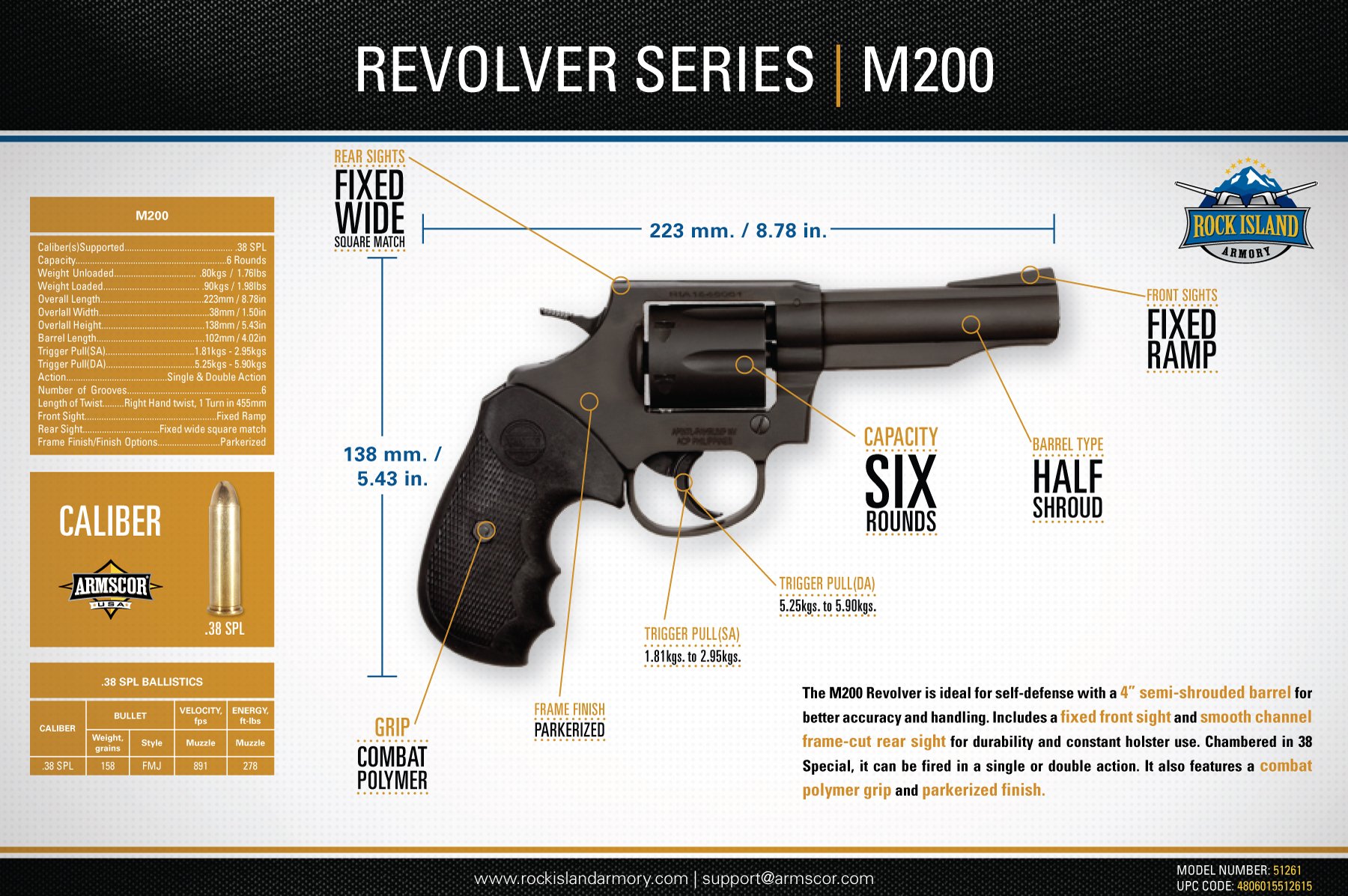 SPECIFICATIONS
| | |
| --- | --- |
| SKU | 51261 |
| SERIES | REVOLVERS |
| CALIBER | 38SPL |
| CAPACITY | 6 |
| BARREL | 4″ |
| OVERALL LENGTH | 8.875 INCH / 225 MM |
| OVERALL WIDTH | 1.5 INCH / 38 MM |
| OVERALL HEIGHT | 5.46 INCH / 139 MM |
| WEIGHT | 1.76 LBS / .80 KG |
| FRONT SIGHT | FIXED RAMP |
| REAR SIGHT | FIXED WIDE SQUARE NOTCH |
| GRIPS | COMBAT TYPE POLYMER GRIP |
| FINISH | BLACK PARKERIZED |
| ACTION | SEMI-AUTOMATIC |
| TRIGGER PULL | 1.81 KG – 2.95 KG |
| PURPOSE | PERSONAL PROTECTION, RECREATIONAL SHOOTING, CONCEAL CARRY |
| MSRP (US) | $249 |
| MARYLAND COMPLIANT | YES |
So, if you still think that I'm wasting my money buying this gun, that's okay. But with crime on the rise, I don't want to be caught with my pants down, especially if some crackhead happens to break into my house at 3:00am.
H/T – armscor.com
GET MORE STORIES LIKE THIS
IN YOUR INBOX!
Sign up for our daily email and get the stories everyone is talking about.